As we all know, the esports market is expanding, and it seems like there's no stopping its growth. With over 40 esports games, and the help of of Newzoo, we were able to come up with a list of the top 5 most watched esports games on YouTube in May.
League of Legends (LoL)
With 14.4 million total hours watched and 8.4 million esports hours watched, LoL is ranked  No. 1 as the most watched esports game on YouTube. Thanks to our good friends at Riot Games, fans are able to enjoy this multiplayer online battle arena. During this game, players are Summoners that control a Champion with unique abilities. They battle against a team of other players and the goal is to destroy the opposing team's Nexus.
Counter-Strike: Global Offensive (CS:GO)
Counter-Strike is a multiplayer first-person shooter video game that puts two teams against each other. You are either a Terrorist or a Counter-Terrorist. Each time has to eliminate the other team while also completing other tasks. Depending on the game mode, the Terrorists either plant a bomb or defend hostages, while the Counter-Terrorists must prevent the bomb from being planted by the opposing team, defuse the bomb, or save the hostages. There are eight game modes and each mode has a specific character. With so much to do, we understand why the total number of hours watched is 3.9 million and the esports hours are 1.2 million.
Defense of Ancients 2 (Dota 2)
This is a top-down multiplayer game that resembles the Real-Time Strategy (RTS) genre, but streamlines the gameplay from controlling an entire army to controlling a single Hero. The game involves two teams (of five) playing against each other. Each team has a base with a central structure (called an Ancient) and the first team to destroy the other team's Ancient wins the game. Dota 2 comes in  third, right behind Counter Strike: Global Offensive, and has 3.9 million total hours and 0.9 esports hours watched by fans.
Tom Clancy's Rainbow Six: Siege
During this tactical shooter video game, players assume the role of an attacker or a defender in different game modes, so the players are either saving hostages or bomb defusing. The game features short missions that you can play solo and focuses on recruits going through training to prepare for a terrorist group that threatens the safety of the world.
Garena RoV: Mobile MOBA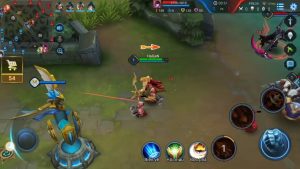 Garena RoV: Mobile MOBA is a game that requires players to battle against each other to "ultimate glory." The multiplayer game requires you to strategize and balance teamwork to win against other competing teams. Garena RoV: Mobile MOBA also allows you to team up with your group of friends or play with strangers. This mobile game ranked number 5 as the most watched on YouTube with 3.5 million total hours and 0.4 million esports hours.